NEM 311, flanger for 16,5 mm sporvidde
NEM 311, Flanges for 16.5mm Gauge
---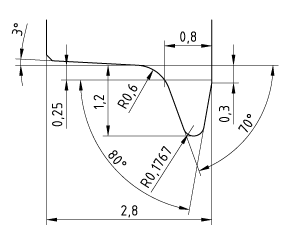 NEM 311 flange:
Tykkelse/Thickness T = 0.8mm
Højde/Depth D = 1.2mm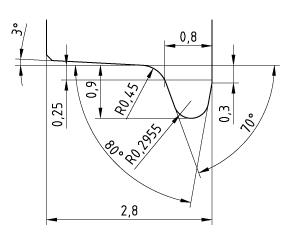 NEM 311 flange:
Tykkelse/Thickness T = 0.8mm
Højde/Depth D = 0.9mm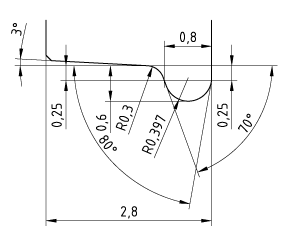 NEM 311 flange:
Tykkelse/Thickness T = 0.8mm
Højde/Depth D = 0.6mm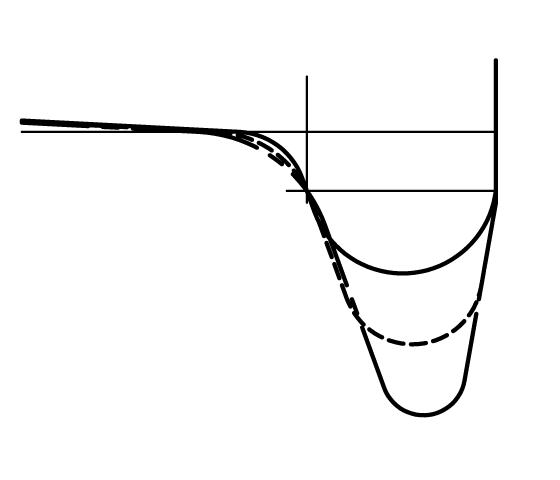 NEM 311 flanger, tykkelse T = 0,8 mm og højde D = 1,2 mm, 0,9 mm og 0,6 mm. Da flangetykkelsen er defineret 0,25 mm under skinneoverkant, indebærer ændringen af afrundingsradius R1 små forskelle i placeringen af den udvendige 70° konus. Flangetoppens radius R2 forøges når flangdehøjden mindskes.
NEM 311 flanges, Thickness T = 0.8mm and Depth D = 1.2mm, 0.9mm and 0.6mm in comparison. As flange thickness is defined 0.25mm below the rail surface, the value of the root radius R1 has a minor influence on the exact situation of the outside 70 degrees cone. The flange tip radius R2 increases as the flange depth is decreased.
Ændringer/changes:
2008-03-15: Opdateret til/updated to HTML 4.01 Strict.
2009-01-01: Typografi opdateret/Typeface updated.
Opdateret/updated 2009-01-01